Karthika masam has its significance in various ways as we have discussed some of them in my recent posts ,it is also considered as the starting of winter season .This month is also considered as idle for picnics and gathering
This picnic culture promotes togetherness and more about persons& the social life and society we live in

In picnics people sit and cook which helps as a good exercise.They play games,crack jokes and talk which helps to promote healthy social life
Taking bath early like before the sunrise and after sunset helps to keep us fresh as well as refresh our minds & body .And as River water is said to be charged with more electromagnetic power it refreshes mind .

Healthy living culture is promoted with fasting

This month helps to promote the culture of liting diyas to celebrate , which are a symbols of many things including joy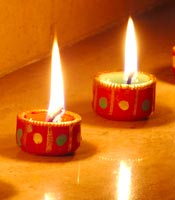 Not talking about the debate but,praying or performing pooja can be considered as Meditation which helps in all situations

Eating in Plantain leafs which is said to be good for digestion even helps for environment by decreasing the usage of plastic plates
Lastly going on Vegan Diet is something which promotes awareness about what you eat and your power to control your mind and appetite
There is some cultural significance for this Picnic in Hinduism :
As per Hinduism, plants are very divine aspects of the nature, hence some plants are worshiped as Gods. Tulasi ,Amla, Bilva plants are considered as Gods and useful material in Puja.
Kartika Vanabhojanam is arranged by some organisations just to chant mantras and to awake the spiritual consciousness in children.
There is a popular belief in Hinduism that Lord Vishnu and Goddess Lakshmi along with all the Gods visit and reside under Amla tree and Tulsi plant during kartik month. During the occasion, people cook food under trees or in parks and eat.