Getting older is invincible but how you look as you age is well within your control.Your skin reflects your health ,if you have a healthy skin which radiates that shows you even have a healthy body.
About 20% of the way you look is predetermined by Genetics and the rest is in your hands like the routine food habits you follow ,your lifestyle and the cosmetic products you use .
SO ,its about 80% that's really a vast digit !!!!!!
Feeling young and radiating skin is not so difficult but it is in you to obtain the vibrancy to show up how young you do look even after aging ,this promising look is generally the outcome of natural treatments and not with cosmetics
Rose Hip Seed Oil:
Smooth and shiny with spot free skin is a sign of healthy skin ,apply Rosehip seed Oil to your face about 3 months and you will definitely note the results which are visible

This Oil not only regenerates your skin's smoothness but also helps to flush the sagging ,fine lines,and blotchiness on your face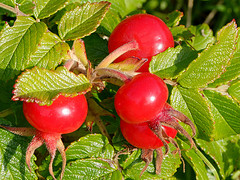 Ayurvedic Medicine :
Go for some ayurvedic cream or treatment rather than opting for expensive cosmetics .

This is a very traditional Indian treatment and proven to be very efficient than any other cosmetics

As ayurvedic medicines generally consists of plants extracts and herbs like turmeric ,ginger you will notice a considerable change
Opting for a Alkaline Diet:
Acidic diet generally can end in damaging your body and ultimately your skin ,so eat a load of fresh fruits and vegetables which are high in alkaline rather that acids for better results

This won't help to reduce present wrinkles but helps to prevent body and skin from further damaging
Try a Natural Cleanser:
Try cleaning your face to wipe of the dead cells present on your face with a cleanser ,as they make your face look pale and dull

Aloe vera extract really a very good cleanser
Go for a Cleansing Diet:
Do you know that the impurities in your digestive system even reflect the way your skin look!

So go for a diet that cleans your digestive system .Like avoid foods that cause inflammatory

Avoid consuming loads of caffeine,sugar,gluten,and meat to your surprise in a few weeks you will notice a raise in your complexion
In addition to the above mentioned treatments you can even stop aging by consuming fruits like Grapes,Clementines,Oranges,Berries, Watermelon , cantaloupe which are very good sources of Vitamin C which is an anti oxidant and also high in water content

Drink loads of water which purifies your body from bad fat and help you to look young

Avoid taking Caffeine rather opt for herbal or green or normal tea as tea is rich with antioxidants which helps to radiate your skin

Apply a Facial with fruits or vegetables like Kiwi,Papaya,Strawberries,Apples,Tomatoes,Cucumber,water melon,Banana and Guava .This will cleanse away the dirt and the dead cells that make you look pale and dark.As this is a home remedy you neither spend an extra penny for this nor worry about its side effects
Try any one perfect solution that smooths your skin
Take a tablespoon of milk , add a tablespoon of Gram Flour(Besan) ,a pinch of turmeric .Mix into a smooth paste and apply it to your face as a pack and rest until it dries then clean it with lukewarm or cold water and check it for yourself .The result will be outstanding with a very smooth skin.if you apply this paste for about twice a week you will notice the change in your face and your skin in a month .
Take some curd and Gram flour and a pinch of turmeric apply to your face similarly as stated above and notice the change for yourself .
Tips:
If you have trouble with pimple try this .Take a table spoon of turmeric and add a little of water and make it into a thick paste and apply to the place where there is a pimple.This will not only cleans the place but also avoids a pimple to pop up in future at that place

If you have a black spot due to a pimple apply tomato juice to that you will notice the change with in a month

Some people are allergic to fruits like papaya ,so test before you apply them